Stamped concrete patterns are a smart and creative concrete design that is commonly used for patios, car porches, driveways, and walkways. The notion of using stamped concrete to decorate the flooring not only provides strength to the floors but also gives them a great look.
Stamped concrete patterns
In stamped concrete patterns, the base colour is the predominant colour. It is chosen to match the natural construction material's colour. To generate the base colour, a colour hardener is mixed into the concrete.
The more the colourant, the richer and more the colouring of the concrete will be. The colourant is usually prepared from the pigments that are coloured by chemicals.
It is important to know that different types of coloured concrete have varying levels of colouring and intensity. Stamped concrete is the most renowned and simple way of concrete decoration.
Benefits of stamped concrete
The primary benefit of using stamped concrete is its long-lasting property that can be used for more than 30 years. The cost of this concrete is cheaper than any other concrete decoration method. Also, it is lightweight and durable which is one of the major reasons why it is used in many commercial applications.
It's flooring, wall coating, sidewalk finishing and patio finishing are some of the applications of this technique.
Easy to install and Vibrant appearance, they will add a shiny and luxurious look to the overall design of the surface it has been used. Stamped concrete patterns look extraordinary and beautiful when it is built by professionals. And it doesn't need time to cure. Unlike other concrete works, stamped concrete is a fast process of construction.
Stamped concrete patterns can be a natural, industrial, or polished finish. This type of concrete has been stamped into a flat surface. Concrete stamping dates back to the ancient Roman Empire. It was also used in the industrial age, as it can last for decades.
Read more: Ferrocement: A Unique Construction Industry Solution
How to get stamped concrete done for your home?
There are several ways to get stamped concrete to protect the floor of residential or commercial premises. In order to obtain such material and applying it on the floors, requires a professional and thorough understanding of the material.
It requires textured skin or textured slabs which can also be bought from the retail outlet. The textured mat should have 2 holes drilled in them as handles.
Concrete placed in the ground may crack and crumble, but stamped concrete is airtight and nearly impervious to humidity. This concrete is often used to add a rustic, earthy, and earthy-toned look to outdoor living spaces. Natural and dark-coloured materials make this colour palette really pop.
Stamped concrete patterns making Process
Stamped concrete patterns are produced by staining the concrete with a colour material (powdered material or acid). The colour hardener is added to the concrete for staining. A machine stamps the concrete, making each step of the process necessary.
There are various types of colours that are employed for producing stamped concrete patterns. The colourants or colouring agents used for the staining are water-soluble material, colourants that give colouration in form of powder, and colourants that are non-toxic.
Planning and preparation
Depending upon the inclination of the house or the location of the concrete slab, it is essential to take concrete design, layout, dimension, and details to stamped. It is an extensive and detailed procedure that needs to be taken with due care and caution.
The design could be made on paper using a whiteboard. Then it is taken to the construction area for stamping.
One should decide how much time will be required to execute it before commencing it. The important consideration in doing this process is concrete stamping must be done before the concrete hardens.
Preparing the surface
The process of preparing the surface is not complicated. Before making stamped concrete patterns, it is important to ensure that the surface is clean and dry, along with the available amount of steel wool.
First, wash the surface with warm water and mild detergent. Then brush steel wool all over the surface to coat the concrete.
Then apply a coat of ready mix before installing concrete. During this period, it is recommended that no sand is used in the concrete; however, sand should be kept aside for final installation. Once the surface is dry, it is necessary to apply the finishing powder.
Mixing and pouring the concrete
The colour mixing of the stamped concrete is done by weight mixing.
The natural colour of the concrete is recycled to give it a new colour of the concrete. The style and pattern that needs to be put are designed by the type of cement, type of stamped concrete, type of mix of concrete and the desired look and feel of the concrete.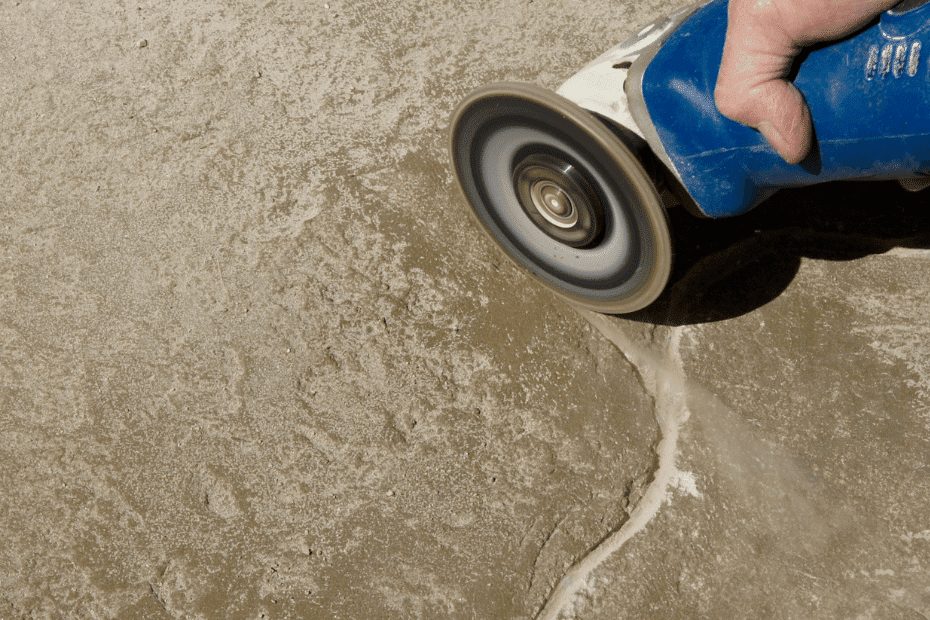 Maintaining the stamped concrete patterns
Maintain concrete surface for a good stamp. If not maintained then the oxidation will take place on the concrete surface. When the oxidation takes place the colour turns black.
If need to use a surface protector with the concrete then make sure to choose one that is made for decorative purposes and not for permanent surface protection.
The mixing of cement and compound will result in making grey and black coloured concrete. To get an adhesive mix, it is important to choose a paint that is not permanent in nature and it will not stick to the concrete. The cement mix should be powder. To get the best results choose white cement.
Stamped Concrete Patio
When thinking of stamped concrete patios, keep in mind that the different kinds of stamping patterns are for completely different purposes and are suited to different areas of home.
Designing and building a patio of Stamped concrete
We use concrete to create all of our stamped concrete patios. A primer coat is applied to the concrete slab so that the concrete is damp to help the concrete cure quickly, and you can get right to work laying the concrete over the already poured slab.
We mix the concrete, let it cure, then sand it, and finally add additional coats of colour for a perfect finish that lasts. When building a stamped concrete patio, you can select your desired colour and dimension. The most common shapes we use are square and rectangle.
However, you can also create patterns like hexagonal or semi-hexagonal shapes. Square and rectangular shapes can create the attractive appearance of a patio in the shape of a table or bench. This type of stamped patio can be used to display outdoor decor pieces.
What are the benefits of a stamped concrete patio?
Stamped concrete patios are ideal for homeowners who want to elevate their outdoor living spaces to new heights with the added ability of durability, quality, and style. They also have the ability to be built using recycled products, creating a truly cost-effective solution.
These patios are more versatile than other types of outdoor living structures because they're much easier to move and plan for landscaping. And, depending on the weather, they are able to last much longer. High-quality stamped concrete patios can also last up to 80 years, according to the Environmental Protection Agency. In addition, this type of concrete has also been shown to provide allergy protection and reduce the heat retention of a slab. This means that the area will not get as hot during the summer months.
What patio design should you choose?
The Victorian Porch can be a nice choice because of the large openings to the outside.
The dimensions of your stamped concrete patio will depend on your property size and the number of garden spaces. We recommend considering the location and dimensions of the adjacent neighbours before choosing your Stamped concrete patterns. Ideally, you'll want your stamped concrete slab to be at least 9-feet wide and 30-feet long, so that you'll be able to use the space for seating, growing a small garden, or walking small children.
How to pick the right colours for your stamped concrete patio
During the design phase, you will have several decisions to make. The colours of the stamped concrete, the designs, and the actual floor coverings can create a very complex and challenging task.
A great example of this would be a stamp pattern designed to match the flooring. You can always add another colour, however, if you decide that you do not like it you can use natural materials to create your stamped concrete patio.
How do I pour the slab for my stamped concrete patio?
It's easy to do and takes less time than any other solution. Pour your patio, if desired, into a prepared concrete bed by means of a self-acting concrete pour machine. These machines can handle a wide range of concrete bed sizes, although be sure to ensure the concrete slabs are properly oriented before you begin the pour.
Once the concrete is ready to be installed, it will be left to cure for a period of time. After this, the slab will be the perfect thickness, providing good performance and a long-lasting flooring surface.
Q. Are Stamped Concrete Patios Sold in Petite?
Yes, there is the availability of both a full slab to measure product as well as a petite slab measuring template for a more custom look. A fully slab product is available in sizes from 8″ x 8″ to 4′ x 4′.
Finishing touches and tips
By combining the best of the natural landscape with your building materials, your home is sure to stand out from the rest and be admired by others. We recommend applying an additional 3 or 4 coats of sealer to your concrete so that the stamped pattern can really set and take on a rich, natural appearance.
Stamped Concrete Patterns
Adding natural-looking effects and depth to concrete surfaces is now possible thanks to the availability of a wide selection of stamped patterns on the market. There are a lot of different producers, and each of them has its own range of designs.
Your concrete patio, driveway, or other surface may be given the appearance of brick, slate, flagstone, or cobblestone by using stamped concrete patterns. There are many additional patterns available as well. Using these patterns to create realistic-looking textures is an efficient and inexpensive approach to do it.
Reasons Stamped Concrete Is Better Than Pavers
Installation of pavers is much more complicated and takes longer than a stamped, resurfaced decorative concrete overlay to an existing patio, driveway or walkway. The description of the process of laying pavers the right way is quite complex and takes three to five days for an average patio
Pavers, including brick, natural stone, and manufactured products, can readily absorb moisture due to their porous nature. This creates issues with stains, and rust.
Transportation– Sidewalks and driveways are also heavier duty than a walkway of any other type. This type of pavement is stronger than a walkway of any other type, allowing trucks and other types of vehicles to carry the product over long distances.
Stamped concrete offers a level of originality as no two pavements are the same. Furthermore, you can give your driveway, patio or walkway a very professional look with a stamp, or you can simply decorate your walkway or patio with a more trendy design.
The cost of a stamped concrete decking is significantly less than a poured concrete or pavers because a stamped concrete installation is prepped on the spot and has one finished pour, which means the concrete is very structurally sound. The cost of the material used is less and there is less wear and tear on concrete over time.
Stamped concrete is impervious to chemicals, harmful substances, and stains. Because it is waterproof, it is easy to clean and maintain. The price, labour and time required to install stamped concrete are less expensive than putting down pavers.
Stamped Concrete Patio Cost
Professionally constructed Stamped concrete pattern patios cost $10-$15 per square foot. You can buy it in India through online retailers through UPI payments. Here's an example of a short pricing comparison:
Plain concrete costs $6 to $12 per square foot.
Brick costs between $14 and $20 per square foot.
$17-$28 per square foot for stone, slate, or marble.
Concrete pavers are priced between $13 and $20 per square foot.
The typical patio is 12′ by 14′, or 168 square feet in size. With pricing varied depending on the amount of detail for your project, you may begin by estimating the average expenses here:
$1,344 (basic)
$2,016 (Mid-Range)
$3,024 (High-End)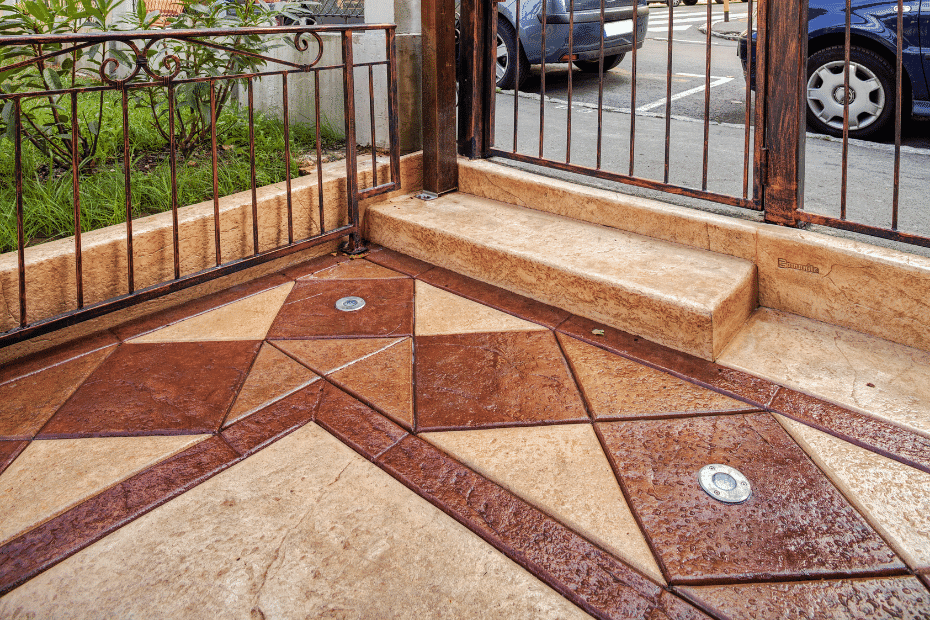 Stamped concrete cost
Stamped concrete is available in a range of prices and depending on the size and other factors. Stamped concrete structures are priced according to the volume produced and the method of production. One can find it for as low as $30 to as high as $500 per square yard. However, the cost may vary if it is manufactured by hand or in the form of a machine.
Stamped Concrete pattern making: Stamped concrete can be manufactured by several methods, most of them involve the production of a thin sheet of stamped steel or a metal plate with a stamp. When the stamped steel plate is placed on a concrete surface and then an edge is left on the surface, it is considered a finished product.
Conclusion
Stamped concrete patterns are created by mixing the cement with the application of a colourant. The colours used in the mixture are the colour hardeners. The hardener is used to enhance the natural colour of the concrete.
Stamped concrete is an intelligent innovation in concrete that is widely used for the floor in patios, driveways, and sidewalks. As the areas get older it becomes weak and weaker. Stamped concrete is the best solution for concrete in these areas. Also, concrete floors in the car porches, driveways, and sidewalks will give a nice look.